Break Free from Electricity with the All American Sun Oven!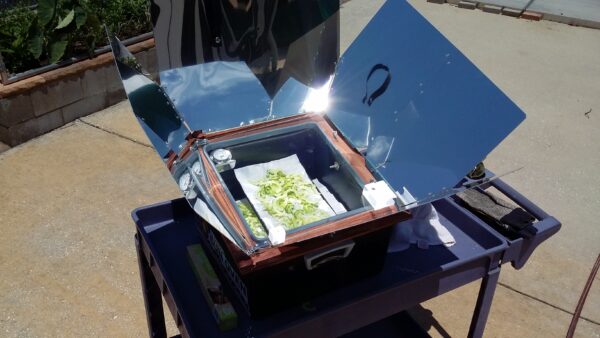 Testing of this unique solar 'appliance' has been underway for since 2020. So far, we've cooked banana bread, cornbread, and hundreds of baked potatoes. We've also used it to separate glued PVC joints (to reuse fittings). It's easy to use and more effective than expected. It even browned the cornbread! Since we spend several hours in the garden every day, we're able to cook while we do our work. Best of all, no electricity or cleanup is required. This unit can pay for itself in a single season!
Reaches temperatures of 360 to 400 degrees Fahrenheit
Bake, boil, or steam foods — boil or pasteurize water
American made with uniquely American features
Dehydrate fruits, vegetables, or jerky
Slow cook or cook in comparable time to conventional stove tops or ovens
As portable as a small suitcase — only 22 lbs.
Ruggedly built for years of trouble-free use
Totally safe — no danger of fire
Is 20% larger than prior model SUN OVENS® to cook a greater volume of food and accommodate many standard size baking pans
Takes the guesswork out of aligning with the sun
Has improved wind resistance
Includes SUN OVEN® Cookbook a specialty cookbook featuring 40 of our favorite recipes, techniques, and tricks of the trade to inspire your tastebuds as you focus the sun on delicious meals
For more information visit All American SUN OVEN.
Watch the video.